Infinera New CFO
NANCY ERBA TO ASSUME ROLE AS NEW INFINERA CHIEF FINANCIAL OFFICER.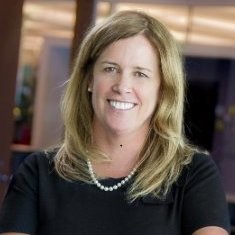 Sunnyvale, Calif. – August 1, 2019, 8:00 a.m. ET – Infinera (NASDAQ: INFN) announced today the appointment of Nancy Erba as Senior Vice President, Strategic Finance, effective immediately, and her subsequent appointment as Infinera's new Chief Financial Officer (CFO), effective August 26, 2019.
As CFO, Ms. Erba will report to CEO Tom Fallon and lead the Company's global finance strategy, including financial planning and analysis, accounting and reporting, tax, treasury, internal audit, and investor relations. She will replace Brad Feller, who will remain through the end of September in order to assist with the smooth transition of financial reporting and other responsibilities.
Ms. Erba brings over 20 years of financial experience, including management of complex M&A integrations, pricing and sales operations. In her most recent role, Ms. Erba was CFO for Immersion Corporation, a recognized leader in the development and licensing of touch feedback technology known as haptics. Prior to Immersion, she held numerous global leadership positions spanning functions and markets at Seagate Technology, a multi-billion dollar data storage company. These roles included Vice President, Financial Planning and Analysis, Division CFO and Vice President of Finance for Strategic Growth Initiatives, and Division CFO and Vice President of Finance of the Consumer Solutions Division. Ms. Erba holds a Master of Business Administration from Baylor University and a Bachelor of Arts degree in mathematics from Smith College.
About ON Partners
Since 2006, ON Partners is the only pure-play executive search firm building diverse C-level and board leadership teams. We rebuilt the institution of executive search for the way you work. Our approach includes present partners who engage with their clients from the first brief to the final decision, individually crafted solutions that are unique to each client, and an easier experience all around. Named by Forbes as one of America's Best Executive Recruiting Firms and to the Inc. 500/5000 Lists nine times, ON Partners is consistently ranked among the top 20 retained executive search firms in the U.S.
Untraditional by Choice. Original by Design. Since 2006.
START YOUR JOURNEY WITH US TODAY
.
If you want to create a new path – ON Partners knows how to help you get there.