On Point: Vc And Pe Firms Are Targeting Midwest Tech Companies — Here's Why – ON Partners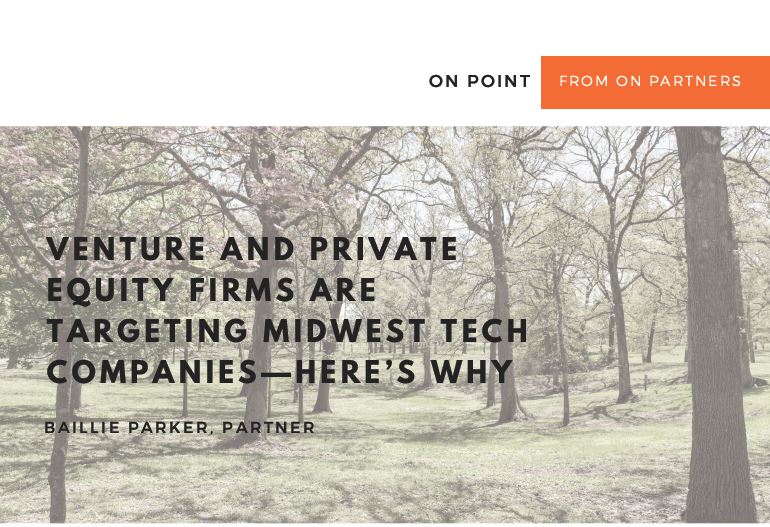 It was only a matter of time for venture capital and private equity firms to turn their attention (and their dollars) to technology companies based in the Midwest.
After all, technology firms are sprouting up across the U.S., in the Midwest, the South, and the Mountain states. Among other attributes, these areas tend to boast a lower cost of living than the pricey tech hubs, and that also contributes to more modest business valuations. Meanwhile, greater San Francisco saw a net outflow of population in 2016 and 2017, according to U.S. census data, and economists attribute that trend to the area's high cost of living.
With more conservative business valuations in mind, private equity and venture firms based in Boston, New York, and San Francisco are more actively investing in Denver, Minneapolis, Chicago, Cleveland, Dallas, and elsewhere. Other PE and venture firms are pulling up stakes and relocating their own shops to these regions.
Once invested in the region, PE and venture firms often seek executive talent as they rework company management teams. From its foundations as a tech-oriented executive search firm, with active tech practices in both these regions and the tech hubs, ON Partners offers a knowledge of these mid-market cities and the resident talent that is unmatched by other search firms.
Baillie Parker, a Minneapolis-based Partner at ON Partners, reports that, "Yes, there is good depth of tech talent outside the tech hubs. We work in so many markets that when I do a search for a company based, for instance, in Indianapolis, I know that market, and I also know the surrounding markets of Denver, Cleveland, Chicago, and Milwaukee. It is more realistic to target the greater region, rather than expecting to recruit someone from the Bay Area."
About ON Partners
Since 2006, ON Partners is the only pure-play executive search firm building diverse C-level and board leadership teams. We rebuilt the institution of executive search for the way you work. Our approach includes present partners who engage with their clients from the first brief to the final decision, individually crafted solutions that are unique to each client, and an easier experience all around. Named by Forbes as one of America's Best Executive Recruiting Firms and to the Inc. 500/5000 Lists nine times, ON Partners is consistently ranked among the top 20 retained executive search firms in the U.S.
Untraditional by Choice. Original by Design. Since 2006.
START YOUR JOURNEY WITH US TODAY
.
If you want to create a new path – ON Partners knows how to help you get there.