ORGANIZATIONS IN STATES AND CITIES THAT BANNED PAY HISTORY QUESTIONS CONTINUE TO ASK PROSPECTIVE EMPLOYEES
CLEVELAND, OH – ON Partners, the results-driven retained executive search firm, today announced the results of its salary survey, revealing that nearly two thirds of executive jobseekers surveyed (62%) are still being asked their compensation history in interviews, even though it is now illegal in their states or cities to do so. The poll targeted jobseekers in the tech and biotech sectors in impacted locations of California, New York and Massachusetts.
In an effort to end workplace pay discrimination, an increasing number of states and municipalities have enacted laws that prohibit employers from requesting salary history information from applicants. (A complete list can be found here.) Nevertheless, employers in these locations continue to ask candidates their pay history, based on the results of the survey.
"Despite the admirable efforts of state and local governments to put an end to pay disparity in the workplace, some organizations simply aren't following the laws," noted ON Partners partner Jeff Hocking. "More education needs to be done to ensure that those doing the interviewing and hiring understand it is no longer acceptable to ask about compensation history."
In addition, the majority of respondents (69%) said they wait for prospective employers to bring up compensation range vs. telling their expectations to the employer upfront. When there is a large gap between what candidates are earning and the offer they receive, more than half of candidates (54%) elect to share their compensation information or negotiate rather than rejecting the offer outright.
Noted ON Partners co-founder and managing partner Tim Conti, "Search firms and all hiring organizations need to be taking this issue seriously – and applicants need to understand their rights and be comfortable setting boundaries when it comes to salary questions."
Respondents were asked the following questions: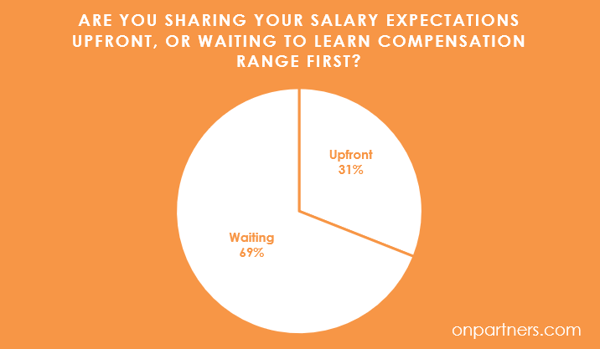 About ON Partners
ON Partners recruits game-changing executives for world-changing companies. The firm was founded in 2006 by like-minded executive search professionals desiring to establish a more client-centric alternative to the large multi-service global firms they were leaving behind. Growing quickly ever since, ON Partners has been named to the Inc. 500/5000 List and as one of the Top 25 Retained Executive Search Firms in the U.S. Specializing in recruiting c-suite, board and vice president/senior management talent, our partners have a long successful track record of building world class management teams across broad industries. For more information, visit www.onpartners.com.
Contact:
Jay Roberts, Roberts Buchanan Associates
917.696.2142 | jay@robertsbuchanan.com
Explore: Our Resources