ON POINT: WILL YOUR NEW HIRE SOLVE THE RIGHT PROBLEM?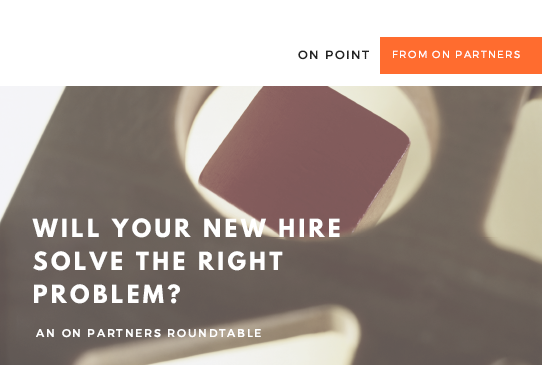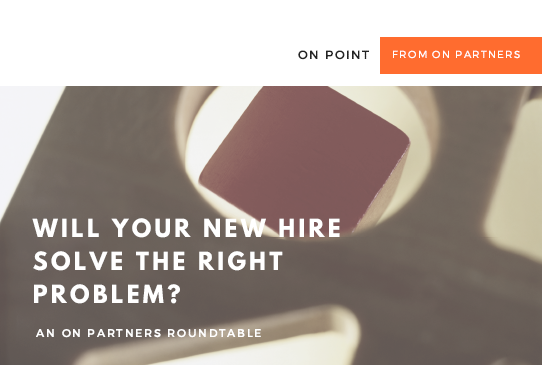 New hires offer companies the opportunity to add expertise, fill key capability gaps, and help move the organization toward its strategic future.  And importantly, new hires are often brought in to solve identified business problems.  But that problem-solving opportunity is squandered — and the hire can appear ineffective — when the company has incorrectly identified the business problem.
Have the underlying issues been accurately identified?  What may present as a sales deficiency might actually be a product issue.  Is an additional direct report needed to support an executive, or is that executive the problem?  Is this an organizational design issue or a personnel issue?
As it relates to human capital issues, companies misunderstand their true business needs more often than you might expect.  Matt Mooney, an Atlanta-based Partner with ON Partners, says that during the initial conversations leading to a search, it becomes clear that nearly half of the time, the client may be looking to solve the wrong problem.
John Morrow, a Silicon Valley-based Partner with ON Partners, has similar experiences. "We are often hired to help a company fix a leadership problem. The client comes to the table with some sense of what they want, but we need to listen closely for early clues to help us more accurately identify hiring needs. We work through the process with the client, present market data, and the scope often evolves," he says.  "Our role as a hiring consultant offers tremendous value to clients."
A sales leader search can shift to a marketing strategy search, or vice versa.  Mooney also reports, "Often, a private equity firm will retain us to hire a COO to support the CEO, but this ultimately can become a CEO search.  As we talk through the issues, peeling back the onion a bit, we learn that the CEO lacks capabilities that are important to the company's future. The PE firm may not initially have the courage to pull the trigger.  Or they may think they can put a band-aid on the situation, as they don't yet realize the depth of the problem.  By highlighting these deficiencies and showing additional market data, there may be a case for a new CEO or a broader succession planning discussion.  That is a fairly common scenario in the private equity or growth equity world."
Making talent changes to solve business and leadership problems makes good sense for companies.  But the critical first step in that process is identifying the true business problem to be solved—perhaps with the help of an objective talent professional.
About ON Partners
We solve complex business problems with exceptional talent, across industries, and across the globe, with results that energize C-Suites, boards, and senior management teams.
At ON Partners, our clients are our partners. Our consultations are catalysts for real change. And our candidates are powerful, mission-driven champions of transformation. Learn more at onpartners.com
About ON Partners
Since 2006, ON Partners is the only pure-play executive search firm building diverse C-level and board leadership teams. We rebuilt the institution of executive search for the way you work. Our approach includes present partners who engage with their clients from the first brief to the final decision, individually crafted solutions that are unique to each client, and an easier experience all around. Named by Forbes as one of America's Best Executive Recruiting Firms and to the Inc. 500/5000 Lists nine times, ON Partners is consistently ranked among the top 20 retained executive search firms in the U.S.
Untraditional by Choice. Original by Design. Since 2006.
START YOUR JOURNEY WITH US TODAY
.
If you want to create a new path – ON Partners knows how to help you get there.