ON DIGITAL HEALTH: WHEN WORLDS COLLIDE
BIG PHARMA AND TECH JOIN FORCES TO BUILD DIGITAL HEALTH STARTUPS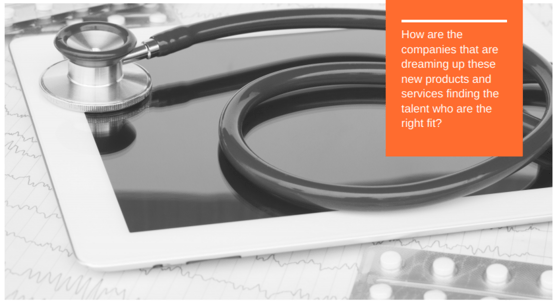 Digital health is arguably one of the hottest sectors in tech today, and it's only getting hotter, forecast to reach nearly $400 billion globally by 2024. The prevalence of diabetes and other chronic diseases, increasing government initiatives, demand for remote patient monitoring services, a strong investment outlook and the growing penetration of smartphones, tablets and other mobile platforms are coming together to create the perfect storm of market opportunity and new business models.
Scores of startups are racing to capitalize on the myriad opportunities and are hiring at a breakneck pace. From "smart" pills that monitor mediation adherence when swallowed to apps that help manage conditions and improve your lifestyle and health, we have only scratched the surface of what is possible. And if there was any doubt that a much-needed seismic shift is happening in healthcare, Apple's announcement earlier this year of a partnership with 13 major U.S. health systems "could liberate health care data for game-changing new uses, including empowering patients as never before" – and should help put those doubts to rest.
But how are the companies that are dreaming up these new products and services finding the talent who are the right fit, people who can bring both healthcare and tech expertise to the table and make these dreams a reality?
The truth is, very few of those people exist. Instead, digital health companies are looking to both Big Pharma and Silicon Valley to find the right combination of expertise needed to fuel the digital health boom. The ideal candidate is someone with Pharma experience but who can work at the speed a tech company typically requires – not an easy profile to find.
For example, someone who has had a 20-year career in 'Big Pharma' is probably used to multimillion-dollar budgets, a team of colleagues with whom to collaborate and rely on, and a years-long product development and approval process. Making the move to a digital health startup, where the pace and scale is wildly different, can be jarring, with fewer budgetary and team resources, the need to wear many hats, and a development cycle of months vs. years.
Yet disillusionment with the old Big Pharma model and the excitement and potential of digital health are alluring, and the sector is drawing many former Big Pharma executives – as well as those who previously moved from Big Pharma into biotech – to its ranks.
A few examples include:
Digital health also presents a challenge to those coming from the tech world. While engineers may be used to the speed at which startups typically move, finding those who can navigate the compliance and documentation rules that are commonplace in the pharma industry can be a challenge. Going from an environment of few or no regulations to one with many is not for everyone. Pear Therapeutics' recent announcement that it received FDA clearance to market its reSET Prescription Digital Therapeutic for the treatment of substance use disorders, the first of its kind, is just one example of how these new digital health companies can bring together pharma leaders and know-how with hi-tech innovation and speed.
Most digital health companies are still in their early stages and are in the process of building out their teams. Professionals who are flexible, creative, willing to take a risk on something unfounded – and who most importantly are excited about the potential benefits digital health can offer – are well suited to this burgeoning market.
Steve Cornacchia is a partner with ON Partners' Life Science practice with a proven track record of identifying and retaining visionary leaders across broad functions including research + development, commercial and business development, as well as information technology and digital. 
About ON Partners
Since 2006, ON Partners is the only pure-play executive search firm building diverse C-level and board leadership teams. We rebuilt the institution of executive search for the way you work. Our approach includes present partners who engage with their clients from the first brief to the final decision, individually crafted solutions that are unique to each client, and an easier experience all around. Named by Forbes as one of America's Best Executive Recruiting Firms and to the Inc. 500/5000 Lists nine times, ON Partners is consistently ranked among the top 20 retained executive search firms in the U.S.
Untraditional by Choice. Original by Design. Since 2006.
START YOUR JOURNEY WITH US TODAY
.
If you want to create a new path – ON Partners knows how to help you get there.