ON POINT: BUILDING BETTER BOARDS WITH DIVERSITY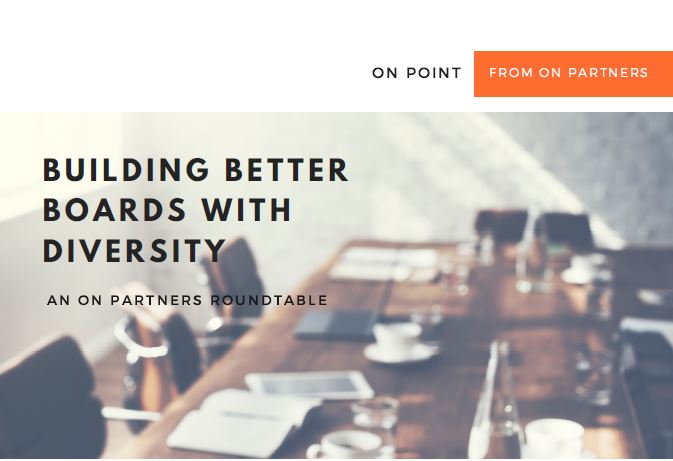 At ON Partners, our commitment to strategic diversity has led to more than 35% of successful searches resulting in diverse placements.  "We know first-hand that a strong roster of director candidates can include both top-quality business experience and diversified backgrounds," says Partner Lenny Vairo.
Yet many boards still lack diversity—a problem with widespread ramifications throughout the global marketplace. A recent Deloitte survey on "Women in the Boardroom: a Global Perspective," found that only 15% of all board seats globally are held by women. Meanwhile, Fortune magazine reported in mid-2017 that less than 25% of new appointees to Fortune 500 boards were African-American, Hispanic or Latino, or Asian-American.
But when discussing how to build better boards while improving diversity, one point is often overlooked. "When we think about who is leading the wave of technology transformation, and therefore, who are the technology executives that should be stepping onto these boards, these women and men are probably in the age range of 35 to 50," notes Partner Bryan Buck.
They may soon be joining boards primarily comprised of white men, age 65 and older. "Bringing in this new generation of technology-fluent directors will almost inevitably add an important level of diversity, in addition to the candidate's race and gender," Mr. Buck says.
These women and men will make boards less homogenous and impact the boardroom dynamic, agrees Partner John Barrett.  "Diversity in strategic perspective is key, as these directors are immersed in technology issues—and they're immersed in them right now, not at some point in the past."
These value-added new directors will be "innovators and disruptors. And that means they're going to bring a different and much needed new voice to the table," concludes Partner Jeff Hocking.  Companies must look to their search partner to make sure that candidates have the EQ, as well as the technology background and expertise, to make an effective difference.
About ON Partners
Since 2006, ON Partners is the only pure-play executive search firm building diverse C-level and board leadership teams. We rebuilt the institution of executive search for the way you work. Our approach includes present partners who engage with their clients from the first brief to the final decision, individually crafted solutions that are unique to each client, and an easier experience all around. Named by Forbes as one of America's Best Executive Recruiting Firms and to the Inc. 500/5000 Lists nine times, ON Partners is consistently ranked among the top 20 retained executive search firms in the U.S.
Untraditional by Choice. Original by Design. Since 2006.
START YOUR JOURNEY WITH US TODAY
.
If you want to create a new path – ON Partners knows how to help you get there.