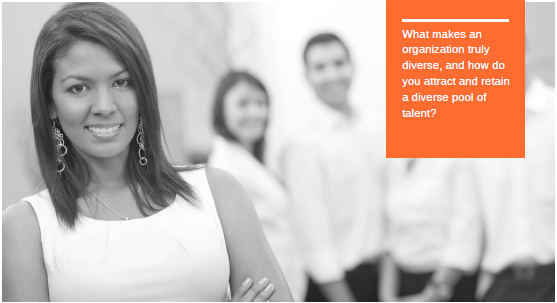 Companies understand the importance of attracting and maintaining a diverse workforce, particularly in the wake of recent scandals that have left the tech sector reeling. But what makes an organization truly diverse, and how do you attract and retain a diverse pool of talent? Hint: proudly displaying diversity posters in your lobby doesn't count.
From defining diversity to reevaluating key candidate qualifications to recognizing that diversity breeds diversity, the following is a list of six key considerations when evaluating your own organization's diversity practices and how to work toward a more diverse and inclusive labor pool.
Define what diversity means in your organization.
What does a "diverse" candidate really mean? It can mean divergence of thought, background, perspective, race, gender – and none of those things should preclude someone from being considered for a position if (s)he is qualified. Start by defining what diverse actually means to the people in your organization and don't be afraid to have ongoing conversations about it – in fact, it should be encouraged.
Take diversity seriously.
It's easy to talk the diversity talk, but most organizations unfortunately don't go further than that. You can't donate your way to diversity. You need to build it into every facet of the hiring process. Awareness amongst the leadership team is often the first critical step, ensuring top-down alignment on diversity initiatives. Also, encourage decision makers to look externally to other companies that have successfully built diverse teams as a benchmark. What are their best practices? How and where are they finding the best talent? And why are they winning here?
Learn how to adapt without sacrifice.
What are the barriers preventing your organization from finding diverse candidates for certain roles? Chances are, they're artificial. For example, could someone who has managed a team of 250 be as effective as one who has managed 500? Could a multi-regional manager with experience overseeing engineering teams in China and North America but not Europe be qualified to run a global, end-to-end team? You've drawn a line in the sand around certain criteria, but do you truly understand why those lines are there and if they're needed?
Often, being flexible in areas such as education, location and other criteria in order to consider a candidate who may check eight boxes instead of 10 can open the door to additional talent who are ultimately just as qualified for the job. Rigid hiring standards can be the antithesis to company growth. Organizations that get this right hire the rising stars at the right time in their careers, take the appropriate "risks" and reap the rewards of that talent appreciation for years to come.
If you're working with a search firm, make sure they understand your diversity needs and are well versed in creating ways to expand the candidate pool without sacrificing experience.
Think of your talent search as relationship building, not transactions.
Making your diversity efforts succeed over the long term involves much more than just hiring a female engineer or donating to Girls Who Code and saying you support diversity. It's important to work with people who focus on building lasting long-term relationships with a large group of diverse talent and understanding there's value in those relationships on both sides. When the need then arises to find a diverse candidate within a 90-day period, for example, there will be a deep well of potential candidates from which to draw.
Get creative.
Don't be afraid to consider candidates outside of your own industry for certain positions. For example, when EcoSense was seeking a chief brand officer, the candidate who was ultimately hired came from a brand strategy agency, not from the tech sector, because her body of work as the lead author and storyteller describing product experiences trumped any tech expertise she could have brought to the table. Similarly, Nvidia's VP of investor relations came from Wall Street – and while she was covering tech in that position, she didn't come from the tech industry per se.
Understand that diversity breeds diversity.
While it may seem obvious, diverse talent tends to follow diverse talent, so making candidates aware that your organization takes diversity seriously is an important "sell" and increases the likelihood of attracting diverse talent. One way to accomplish this is to put together an interview schedule that shows candidates the diversity of the organization throughout the entire process: A tour of the campus led by a high-potential individual, lunch with a diverse employee group, interactions with people from various functions and backgrounds, etc. Visibility and face time with diverse leaders in the company is critical. Engaging those leaders in conversations around company culture and their experiences within the organization are just as important to the candidates as ensuring the right functional fit.
Finally, ask the right questions of your search firm to make sure they understand how to work with you to find diverse talent without sacrificing experience.