YEAR ENDS ON SOUR NOTE WITH DIGITAL HIRING AT FIVE-YEAR LOW – Q4 2016 DIGITAL JOBS INDEX
NEW YORK ADDS 1.5% FOR Q4 AND 11.0% FOR 2016
BOSTON ADDS 0.9% FOR Q4 AND 10.1% FOR 2016
NEW YORK/BOSTON – February 21, 2017 – ON Partners (www.onpartners.com), one of the country's fastest growing retained executive search firms, has compiled the results of its quarterly Digital Jobs Index. Both Boston and New York had their worst hiring figures in the past five years. New York's digital headcount increased 11.0% in 2016, down from 17.3% in 2015. Fourth quarter headcount only went up by 1.5%. Boston's headcount saw a rise of 10.1% for 2016 compared to a 13.9% increase in 2015. The city's fourth quarter employment increased by a measly 0.9%.
There are likely multiple causes for the slowdown but one is most certainly the well-reported decline in venture capital investing over the past six months. New York's hiring scene has been steadily eroding for the past 18 months while Boston's took a sharp downturn in the last 6 months. In fact, both cities saw less than 50% of companies in our survey increasing their headcount over the past two quarters, another sign that many companies are increasingly keeping a closer eye on their payrolls.
There were a number of notable M&A transactions in the digital sector this past year. In many of these instances, the acquisitions led to a noticeable decline in headcount. Boston saw a number of companies being sold in 2016 including Constant Contact (Endurance), Demandware (Salesforce), Fiksu (Clickdealer), DealerRater (Cars.com), Valor (Follett), Smart Destinations (Big Bus) and Gemvara (Richline). New York City had its fair share of M&A transactions as well: Operative (SintecMedia), Gilt (Hudson Bay), Yodle (Web.com), Jet.com (Walmart), Tapad (Telenor), HookLogic (Criteo), Olapic (Monotype), CityMaps (TripAdvisor) and Gawker Media (Univision).
ON Partners' John Barrett observed, "We believe the recent soft hiring scene might be a 'new normal' but it will take another quarter or two to confirm that. More and more of the hiring in 2016 seemed to consolidate among the largest employers. In Boston, those adding the most jobs included Wayfair, Amazon, HubSpot, Google and CarGurus. New York City saw a similar trend with much of its hiring among a few well-known brands that included Amazon, Google, Facebook, Indeed.com, Spotify, Blue Apron and Jet.com."
Full results of the survey are published below.
QUARTERLY EMPLOYMENT CHANGE IN DIGITAL JOBS (%)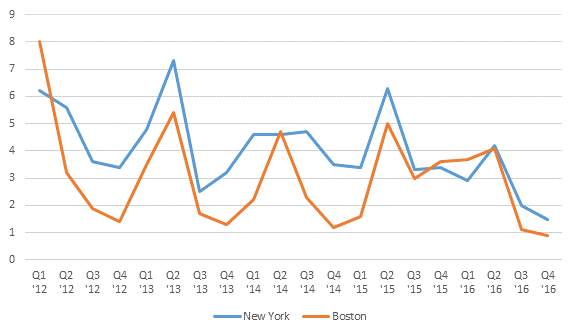 COMPANIES WITH INCREASING HEADCOUNT (%)
FOURTH QUARTER 2016 RESULTS FROM ON PARTNERS' DIGITAL JOBS INDEX:
NEW YORK DATA:
405 Internet and digital companies with 10+ employees in New York City
Approximately 900 jobs added for a 1.5% gain
Top 10 companies showing largest headcount gains in New York include:
Amazon
Facebook
Blue Apron
Indeed.com
Spotify
Jet.com
Compass/
Etsy
Yahoo!
Yelp
Up-and-coming private companies showing large headcount gains:
BuzzFeed
FreshDirect
Yext
Zeel.com
Vox Media
Ride
Thrillist
Betterment
Taboola
Rocketrip
Complex Media
Vroom
1stdibs
Rent the Runway
Managed by Q
Handy HQ
Percolate
Moat
ClassPass
Operative
Newsela
Squarespace
Freshly Inc.
ShopBop
Vettery
Extreme Reach
NewsCred
LearnVest
Fiverr
Eyeview
Open Road Integrated Media
PureWow
BOSTON DATA:
196 Internet and digital companies with 10+ employees in Boston
Approximately 220 jobs added for a 0.9% gain
Top 10 companies showing largest headcount gains in Boston include:
Amazon
CarGurus
Care.com
Catalant
PillPack
Carbonite
Google
EverQuote
HubSpot
Criteo
Up-and-coming private companies showing large headcount gains:
DataXu
Jobcase
Scvngr
OwnerIQ
Booster LLC
Crimson Hexagon
SessionM
EverPresent
ezCater
Promoboxx
Visual IQ
Circle Internet Financial
Disruptor Beam
Redpoint Global
Pixability
Scout Exchange
Blueport Commerce
Skyword
Recorded Future
Cinch Financial
Drizly
ViralGains
Teikametrics
Turo
GasBuddy
ON Partners surveyed only pure-play Internet and digital companies. Based on its research, the company believes that the businesses surveyed represent more than 90 percent of the Internet and digital employees in New York and Boston. Major digital sub-sectors covered include consumer Internet, small business Internet, advertising technology, consumer payments and marketing software. Excluded from the survey were digital-focused employees of "traditional" companies, consulting firms and digital ad agencies. ON Partners continually adds or subtracts companies for inclusion in the Index based on the criteria of employing 10 or more employees in either the New York or Boston metropolitan areas. ON Partners' Digital Jobs Index is current as of December 31, 2016.
John Barrett:
LinkedIn: http://www.linkedin.com/in/johnbarrett3
Twitter (@jbarrett): https://twitter.com/#!/jbarrett
About ON Partners
We're more than just headhunters. We've assembled the best recruiters in the industry for one unified purpose: to recruit top talent that delivers results for our clients.
With a primary focus on the technology, life sciences, industrial, and energy / clean tech industries, ON Partners (ON) identifies and recruits the best C-Suite, Board and senior executive talent for both public and private companies, as well as venture capital and private equity firms.
ON Partners has ready access to key executives nationwide, with offices located in key metro-areas, empowering us to discover and recruit the best talent available anywhere. For more information, visit www.onpartners.com
About ON Partners
Since 2006, ON Partners is the only pure-play executive search firm building diverse C-level and board leadership teams. We rebuilt the institution of executive search for the way you work. Our approach includes present partners who engage with their clients from the first brief to the final decision, individually crafted solutions that are unique to each client, and an easier experience all around. Named by Forbes as one of America's Best Executive Recruiting Firms and to the Inc. 500/5000 Lists nine times, ON Partners is consistently ranked among the top 20 retained executive search firms in the U.S.
Untraditional by Choice. Original by Design. Since 2006.
START YOUR JOURNEY WITH US TODAY
.
If you want to create a new path – ON Partners knows how to help you get there.