NEW YORK ADDS 3.4% FOR Q4 AND 17.3% FOR THE YEAR
BOSTON ADDS 3.6% FOR Q4 AND 13.9% FOR THE YEAR
John Barrett of ON Partners (www.onpartners.com), a leading retained executive search firm, has compiled the results of the quarterly Digital Jobs Index. Hiring remains steady in both Boston and New York City. For the year, Boston came roaring back with its strongest hiring since 2012. New York, on the other hand, experienced a softening hiring environment in the latter half of 2015 and had its weakest year since our survey began in 2012. Overall, the hiring pace in New York still easily surpasses Boston's.
The strength of Boston's success lies in the continued binge hiring of a few dominant employers: Wayfair, Amazon, HubSpot, Google and DraftKings. Wayfair, HubSpot and DraftKings are homegrown success stories. The make-up of New York's hiring eco-system is quite different: much more of the digital hiring in the city comes from companies that aren't even headquartered there such as Google, Amazon, Facebook, LinkedIn, Indeed.com and Yelp. New York's hiring is much less concentrated in a few companies which arguably means it's still a far healthier environment that offers many more employment options for digital talent.
Full results of the survey are published below.
QUARTERLY EMPLOYMENT CHANGE IN DIGITAL JOBS (%)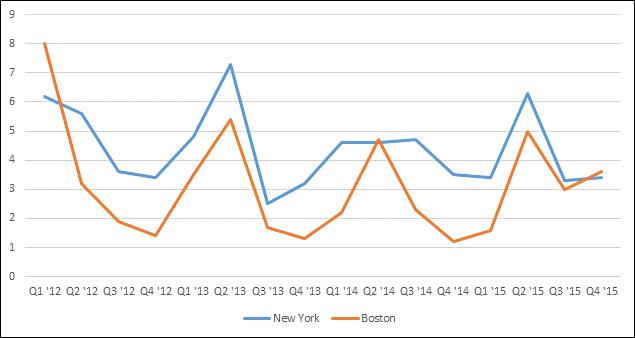 ANNUAL EMPLOYMENT CHANGE IN DIGITAL JOBS (%)
FOURTH QUARTER 2015 RESULTS FROM ON PARTNERS' DIGITAL JOBS INDEX:
NEW YORK DATA:
393 Internet and digital companies with 10+ employees in New York City
Approximately 1,720 jobs added for a 3.4% gain
Top 10 companies showing largest headcount gains in New York include:
Google
Amazon
Oscar Insurance
Blue Apron
Indeed.com
Urban Compass
AOL
E*Trade
Priceline.com
Jet.com
Up-and-coming private companies showing large headcount gains:
Warby Parker
Yext
Vox Media
Artsy
MediaMath
Fanduel
BuzzFeed
Refinery29
Schoology
JackThreads
Magnetic
Betterment
Trustpilot
Operative
Grovo
Work Market
NewsCred
Extreme Reach
Bustle
Casper
Rent the Runway
Integral Ad Science
Movable Ink
Appboy
Mic
Paperless Post
DoubleVerify
Kargo
LearnVest
Moda Operandi
Managed by Q
BOSTON DATA:
196 Internet and digital companies with 10+ employees in Boston
Approximately 755 jobs added for a 3.6% gain
Top 10 companies showing largest headcount gains in Boston include:
Wayfair
Amazon
HubSpot
TripAdvisor
CarGurus
Google
DraftKings
Virgin Pulse
EverTrue
Salsify
Up-and-coming private companies showing large headcount gains:
ezCater
PillPack
Placester
Jana
WordStream
SessionM
BlueSnap
Brand Networks
CoachUp
HourlyNerd
Lola
Localytics
Visual IQ
Whoop
SnapApp
Wistia
True Fit Corporation
Yesware
Zagster
Scvngr
SiteSpect
The Grommet
Smart Destinations
Turo
ON Partners surveyed only pure-play Internet and digital companies. Based on its research, the company believes that the businesses surveyed represent more than 90 percent of the Internet and digital employees in New York and Boston. Major digital sub-sectors covered include consumer Internet, small business Internet, advertising technology, consumer payments and marketing automation. Excluded from the survey were digital-focused employees of "traditional" companies and digital ad agencies. ON Partners continually adds or subtracts companies for inclusion in the Index based on the criteria of employing 10 or more employees in either the New York or Boston metropolitan areas. ON Partners' Digital Jobs Index is current as of January 1, 2016.
John Barrett:
LinkedIn: http://www.linkedin.com/in/johnbarrett3
Twitter (@jbarrett): https://twitter.com/#!/jbarrett
About ON Partners
We're more than just headhunters. We've assembled the best recruiters in the industry for one unified purpose: to recruit top talent that delivers results for our clients.
With a primary focus on the technology, life sciences, industrial, and energy / clean tech industries, ON Partners (ON) identifies and recruits the best C-Suite, Board and senior executive talent for both public and private companies, as well as venture capital and private equity firms.
ON Partners has ready access to key executives nationwide, with offices located in key metro-areas, empowering us to discover and recruit the best talent available anywhere. For more information, visit www.onpartners.com